We need your help, can you chip in?
The Madain Project is growing faster than ever before, and we need your help. As an independent nonprofit, we build and maintain all our own systems, but we don't charge for access, sell user information, or run ads—instead we're powered by donations averaging $20.
No donation is small, you can make your contributions here. :)
Masjid Nabawi Calligraphic Inscriptions
Masjid an-Nabawi is adorned with verses from Quran and other calligraphic inscriptions.
Mihrab-i Nabawi and the Musallah as seen from the north, it dates back to the abu al-Nasr Qaitibai's era, 1482 CE. There are a number of calligraphic inscriptions on and around the facade and rear of the prayer niche, including 3 verses from Quran and one instance of Durood encircling the crown of the mehrab e Nabawi. On the posterior wall of the mihrab are the historic dedicatory inscriptions of five lines written in the Mamlooki Thuluth script.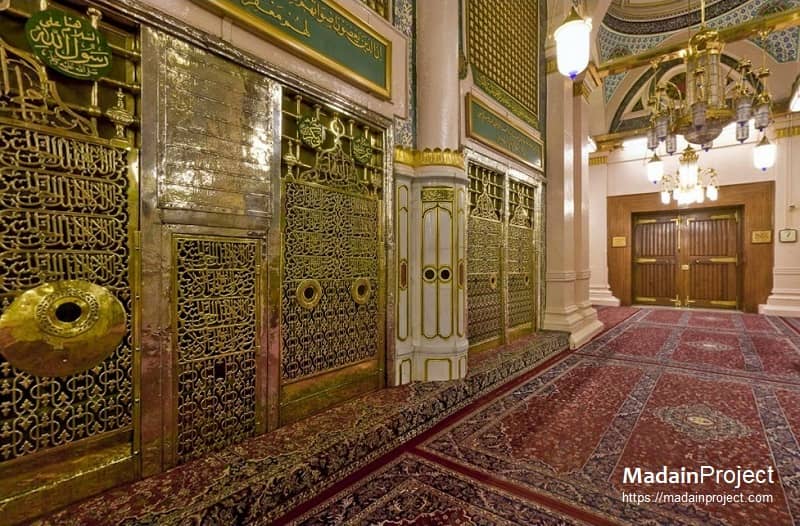 Calligraphy on the Muwajja Shareef, southern side, the Muwajja Shareef is the face of the Holy Grave that looks towards the Qibla – the direction towards Mecca.
The Qibla wall of Masjid an-Nabawi, which is part of the Ottoman prayer hall, is adorned with some 185 names of prophet Muhammad. The Qibla wall is the most adorned wall of Masjid an-Nabawi and dates back to late 1840s reconstruction and expansion of the prophet's mosque by Ottoman Sultan Abdulmajid I. Calligraphic inscriptions of prophet Muhammad's name start from Bab as-Salam, located west of the Masjid an-Nabawi, with a heading "These are the names of the prophet, peace be upon him" (هذه أسماء النبي صلى الله عليه وسلم). These names were inscribed during the reconstruction by Abdulmajid I.
Gallery
See Also
References
Ismāʻīl, M. K., & Damlūji, S. S. (1998). The architecture of the prophets holy mosque, al Madīnah. London: Hazar.
https://holyhijaz.wordpress.com/the-mihrab-of-the-prophet-salallahu-alayhi-wasalam/
Nebî Bozkurt- Mustafa Sabri Küçükasçi, "Mescid-i Nebevî", DIA, 30, 281-90; Ibrahim Ates, İbrahim Ateş, "Mescid-i Nebevî`nin Yapıldığı Günden Bu Yana Geçirdiği Genişletme Girişimleri" ("Efforts of Expansion that Masjid al-Nabawi has undergone from its Establishment to Today"), Vakiflar Magazine, Ankara 1994, XXIV, 5-50; Oleg Grabar, İslam Sanatının Oluşumu (The Formation of the Islamic Arts), İstanbul 1988.
Bangash, Z. (n.d.). History of Masjid al-Nabawi and the Green Dome. Retrieved April 22, 2019, from https://crescent.icit-digital.org/articles/history-of-masjid-al-nabawi-and-the-green-dome Dhu al-Hijjah 06, 1435, Understanding the history of expansion of Masjid al-Nabawi and how the Green Dome over the Prophet's (saws) tomb was erected.
Calligraphic Inscriptions in the Prophet's Mosque. (n.d.). Retrieved April 22, 2019, from http://www.sunnah.org/history/calligraphic_inscriptions_masjid_nabawi.htm
Sanat Eserine Vurulan Kur`an Muhru, Istanbul. 2006, Kaynak Yy.
Points of Interest
Top